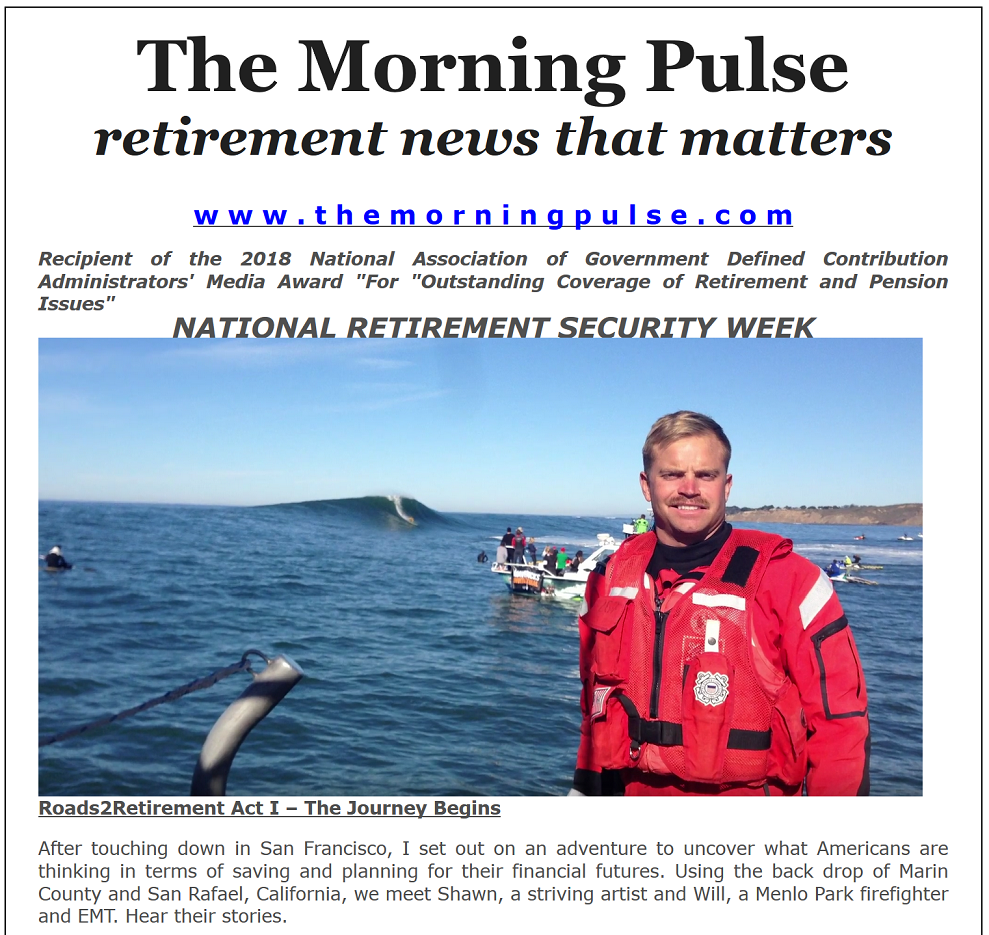 OCTOBER 22, 2018                                                                                                                                                                                               SUBSCRIBE
After touching down in San Francisco, I set out on an adventure to uncover what Americans are thinking in terms of saving and planning for their financial futures. Using the back drop of Marin County and San Rafael, California, we meet Shawn, a striving artist and Will, a Menlo Park firefighter and EMT. Hear their stories. Tomorrow, on to The Haight.
Founder's Notes:
To the Viewer:
Happy National Retirement Security Week!
I have spent over two decades of my adult life in the retirement services industry, first as a recordkeeper, then a technologist and most recently as an independent investment advisor and fiduciary consultant. Retirement to me has always been top of mind and, as I like to joke, I have been thinking about age 65 since I was 20 years old.
It has always been my mission to help educate Americans about gaining financial and personal independence, first with my professional work sitting in board and trustee meetings discussing retirement plans, then as the creator of my retirement news aggregator, The Morning Pulse and my podcast, The Weekly Pulse, and now as the host of the documentary series, Roads2Retirement. This series was born nearly twelve months ago in partnership with creative friends at Oct28 Productions. The people we meet and the stories we capture have given us a much broader perspective on the various financial paths Americans navigate on their way to retirement.
There is no one clear path to a successful retirement. My goal is to encourage every American to invest a little more time in planning for their futures.  All of us are continually searching for new and better ways to strengthen our financial security.  We hope these stories will help to pave your own personal road to retirement.
We look forward to having the opportunity to produce many full seasons of the show! Thank you for watching.
Jeffrey Snyder, Founder, CEO of The Morning Pulse
TOP SOCIAL MEDIA TRENDS
PERSONAL FINANCE
401k 403b 457b NONQUALIFIED PLANS
PENSIONS
INTERNATIONAL
HEALTHCARE
TECH & SOCIAL MEDIA
MARKETS
ALTERNATIVE INVESTMENTS
ABOUT THE FOUNDER
Jeffrey H. Snyder currently serves as Founder, CEO for The Morning Pulse, Inc. Considered an "industry insider", thought-leader and an independent voice, he has appeared in both television and print discussing the issues related to retirement and the capital markets. He also is the creator, producer and host of the podcast The Weekly Pulse and the original series Roads to Retirement.
ABOUT THE MORNING PULSE

Founded in 2012, The Morning Pulse, Inc. is a digital technology, media company and consulting firm focused on aggregating, organizing and delivering retirement and financial services industry information daily and weekly. Over 100,000 industry professionals, senior executives and government officials have come to trust The Morning Pulse for timely delivery of important and relevant news. In 2018, The Morning Pulse received the National Association of Government Defined Contribution Administrator's Media Leadership Award.
"We believe in using the latest technological innovations to reach an audience. Some of us like to read, some of us like to listen, some of us like to see – or a combination of all three. You can expect The Morning Pulse to bring you the latest Industry information via all of these mediums and more. We want to cut through the clutter of every day life to bring important and relevant retirement information to our subscribers. We want to make the idea of retirement and financial preparedness culturally relevant."
The hyperlinks above take you to internet site(s) sponsored and maintained by independent third parties that are unaffiliated with The Morning Pulse, Inc. The hyperlinks as provided are maintained to provide the author(s) and their respective organizations the proper attribution for developing the original content. The links and content provided in The Morning Pulse and The Weekly Pulse are for general reference and educational purposes only. Although we believe the content provider to be a reliable source of information, we do not guarantee the accuracy of the information or warranty the representations of such Websites. The information available through these Web sites has not been prepared by nor does The Morning Pulse, Inc. have an ability to alter the content, and content will not be monitored by The Morning Pulse, Inc. in the future. The Morning Pulse, Inc. assumes no responsibility for the use of or inability to use such site and recommends you review the terms, conditions, and privacy policy applying to your use of the site. Expression of opinions contained on these hyperlinks may or may not be consistent with the opinions of The Morning Pulse, Inc.