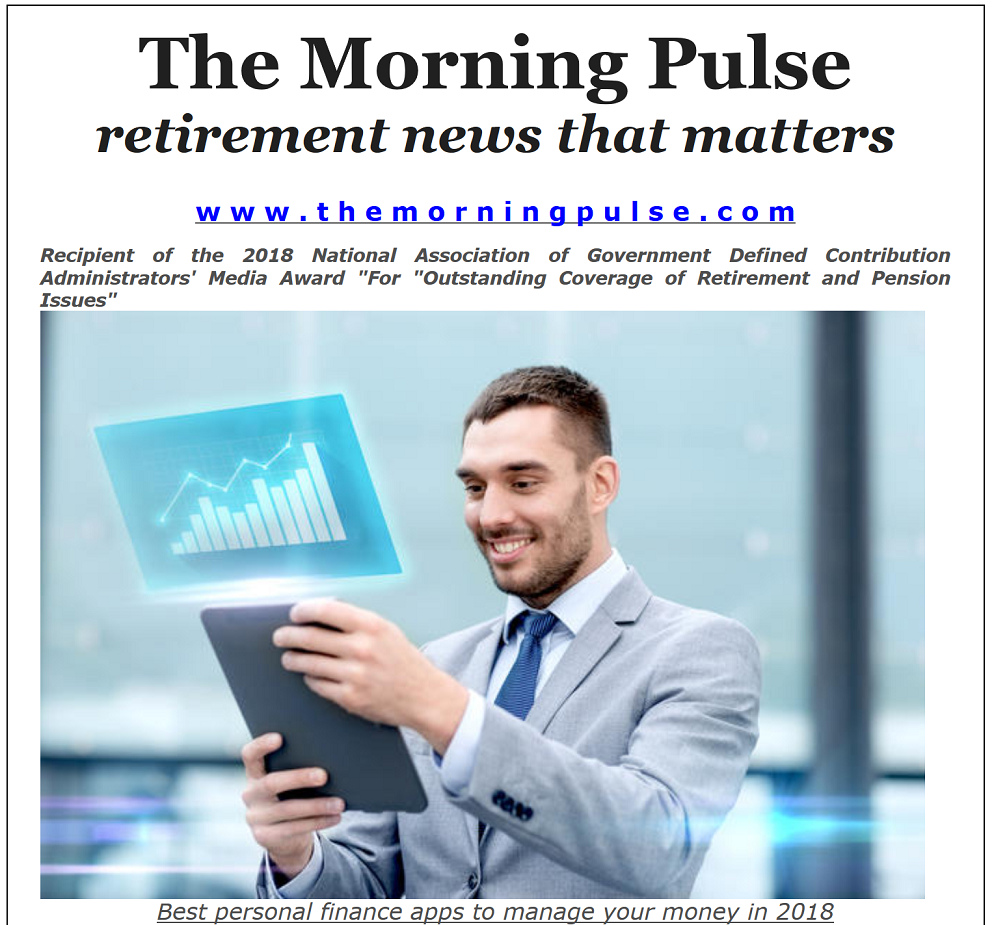 Founder's Notes:
Roads2Retirement. Thank you to everyone who watched the Roads2Retirement docuseries last week. Oct28 Productions and I had a great time producing the show and we want to thank all of the folks that made themselves available to tell their stories. We'd love your feedback, so please feel free to email me at jeffrey.snyder@themorningpulse.com. Our goal now is to raise the funding to produce one episode per month to help provide our fellow Americans with ideas and insights as the plan their own road to retirement!
The Weekly Pulse. Need a weekly wrap up of the retirement news that matters? Check out The Weekly Pulse podcast. This week's episode: The Weekly Pulse for Sunday, October 28, 2018. In this episode (1) Companies offering employees time off to vote, (2) Netflix earnings, (3) market volatility continues to rear its ugly head – what's the reaction?, (4) women's retirement investing and (5) new Department of Labor comment period on Multiple Employer Plans (MEPs). This week's special guest is Bob Otter, Founder/CEO of CitizenAID USA.
Big Announcement. The fun doesn't stop at The Morning Pulse. We have another big announcement coming this week. Tune in to social media (and, of course, The Morning Pulse) to learn about another new initiative.
Happy Birthday Mom!
OCTOBER 29, 2018                                                                                                                                                                                               SUBSCRIBE
#PersonalFinance, #Savings, #529Plans, #SocialSecurity, #401k, #403b, #457b, #Advisor, #Pensions, #Healthcare, #Tech, #Cybersecurity, #DataBreach, #Markets, #FederalReserve, #InterestRates, #Endowments, #ESG, #ETF, #Brexit, #Cryptocurrency, #HedgeFunds, #PrivateEquity, #RealEstate, #REIT, #VentureCapital, #SmartBeta, #FamilyOffices
ABOUT THE FOUNDER
Jeffrey H. Snyder currently serves as Founder, CEO for The Morning Pulse, Inc. Considered an "industry insider", thought-leader and an independent voice, he has appeared in both television and print discussing the issues related to retirement and the capital markets. He also is the creator, producer and host of the podcast The Weekly Pulse and the original series Roads2Retirement.
ABOUT THE MORNING PULSE

"We believe in using the latest technological innovations to reach an audience. Some of us like to read, some of us like to listen, some of us like to see – or a combination of all three. You can expect The Morning Pulse to bring you the latest Industry information via all of these mediums and more. We want to cut through the clutter of every day life to bring important and relevant retirement information to our subscribers. We want to make the idea of retirement and financial preparedness culturally relevant."
The hyperlinks above take you to internet site(s) sponsored and maintained by independent third parties that are unaffiliated with The Morning Pulse, Inc. The hyperlinks as provided are maintained to provide the author(s) and their respective organizations the proper attribution for developing the original content. The links and content provided in The Morning Pulse and The Weekly Pulse are for general reference and educational purposes only. Although we believe the content provider to be a reliable source of information, we do not guarantee the accuracy of the information or warranty the representations of such Websites. The information available through these Web sites has not been prepared by nor does The Morning Pulse, Inc. have an ability to alter the content, and content will not be monitored by The Morning Pulse, Inc. in the future. The Morning Pulse, Inc. assumes no responsibility for the use of or inability to use such site and recommends you review the terms, conditions, and privacy policy applying to your use of the site. Expression of opinions contained on these hyperlinks may or may not be consistent with the opinions of The Morning Pulse, Inc.