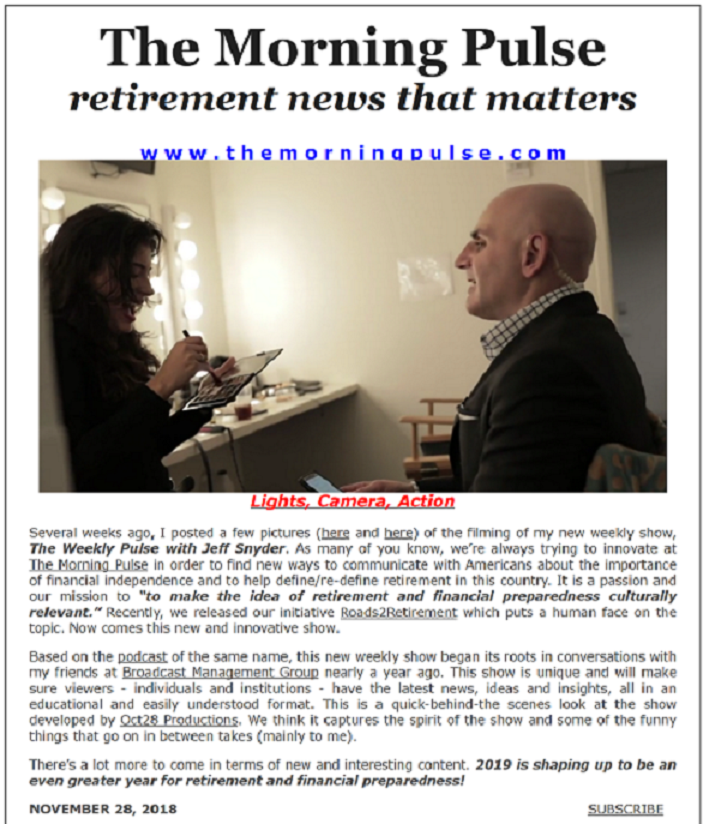 Several weeks ago, I posted a few pictures (here and here) of the filming of my new weekly show, The Weekly Pulse with Jeff Snyder. As many of you know, we're always trying to innovate at The Morning Pulse in order to find new ways to communicate with Americans about the importance of financial independence and to help define/re-define retirement in this country. It is a passion and our mission to "to make the idea of retirement and financial preparedness culturally relevant." Recently, we released our initiative Roads2Retirement which puts a human face on the topic. Now comes this new and innovative show.
Based on the podcast of the same name, this new weekly show began its roots in conversations with my friends at Broadcast Management Group nearly a year ago. This show is unique and will make sure viewers – individuals and institutions – have the latest news, ideas and insights, all in an educational and easily understood format. This is a quick-behind-the scenes look at the show developed by Oct28 Productions. We think it captures the spirit of the show and some of the funny things that go on in between takes (mainly to me).
There's a lot more to come in terms of new and interesting content. 2019 is shaping up to be an even greater year for retirement and financial preparedness!
NOVEMBER 28, 2018                                                                                                                                                                                            SUBSCRIBE
PERSONAL FINANCE
401k 403b 457b NONQUALIFIED PLANS
PENSIONS
INTERNATIONAL
HEALTHCARE
TECH & SOCIAL MEDIA
MARKETS
ALTERNATIVE INVESTMENTS
ABOUT THE FOUNDER
Jeffrey H. Snyder currently serves as Founder, CEO for The Morning Pulse, Inc. Considered an "industry insider", thought-leader and an independent voice, he has appeared in both television and print discussing the issues related to retirement and the capital markets. He also is the creator, producer and host of the podcast The Weekly Pulse and the original series Roads2Retirement.
ABOUT THE MORNING PULSE

The hyperlinks above take you to internet site(s) sponsored and maintained by independent third parties that are unaffiliated with The Morning Pulse, Inc. The hyperlinks as provided are maintained to provide the author(s) and their respective organizations the proper attribution for developing the original content. The links and content provided in The Morning Pulse and The Weekly Pulse are for general reference and educational purposes only. Although we believe the content provider to be a reliable source of information, we do not guarantee the accuracy of the information or warranty the representations of such Websites. The information available through these Web sites has not been prepared by nor does The Morning Pulse, Inc. have an ability to alter the content, and content will not be monitored by The Morning Pulse, Inc. in the future. The Morning Pulse, Inc. assumes no responsibility for the use of or inability to use such site and recommends you review the terms, conditions, and privacy policy applying to your use of the site. Expression of opinions contained on these hyperlinks may or may not be consistent with the opinions of The Morning Pulse, Inc.