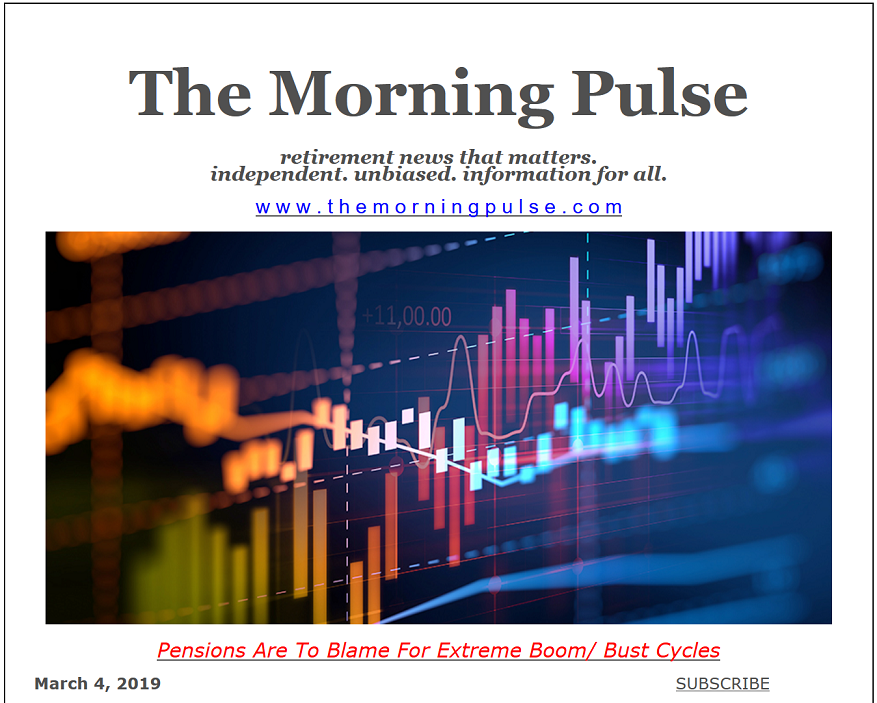 March 4, 2019                                                                                            SUBSCRIBE
The Weekly Pulse for Sunday, March 3, 2019 In this episode: (1) Funding state and local government pensions – is there a better way?, (2) redefining "retirement" (should that word even apply anymore?), (3) The phony retirement crisis? (4) An Oscar shift?, (5) positive GDP numbers – what does this mean for investors (is there a recession looming)? and (6) the quarterly home owner rate is 64.8%; 43% of senior are renting. This week's special guest is Professor Jon Forman, University of Oklahoma College of Law.
The TOP SOCIAL MEDIA TRENDS feature will return next week!
PERSONAL FINANCE, FINANCIAL WELLNESS & FINANCIAL LITERACY
HEALTHCARE & WELLNESS
TECH & SOCIAL MEDIA
401k, 403b, 457b, NONQUALIFIED, STATE-RUN PLANS & LITIGATION
PENSIONS
INTERNATIONAL
MARKETS
ALTERNATIVE INVESTMENTS
ABOUT THE FOUNDER
Jeffrey H. Snyder is the Creator and Founder of The Morning Pulse, Inc. Considered an "industry insider", thought-leader and an independent voice, he has appeared in both television and print discussing the issues related to retirement and the capital markets. He also is the creator, producer and host of the The Weekly Pulse podcast and TV show, as well as the original series Roads2Retirement.
ABOUT THE MORNING PULSE

Founded in 2012, The Morning Pulse, Inc. is an award-winning digital technology, media company and consulting firm focused on aggregating, organizing and delivering retirement and financial services industry information daily and weekly. Over 200,000 industry professionals, private and public sector executives and government officials have come to trust The Morning Pulse for timely delivery of important and relevant news and content.
The hyperlinks above take you to internet site(s) sponsored and maintained by independent third parties that are unaffiliated with The Morning Pulse, Inc. The hyperlinks as provided are maintained to provide the author(s) and their respective organizations the proper attribution for developing the original content. The links and content provided in The Morning Pulse and The Weekly Pulse are for general reference and educational purposes only. Although we believe the content provider to be a reliable source of information, we do not guarantee the accuracy of the information or warranty the representations of such Websites. The information available through these Web sites has not been prepared by nor does The Morning Pulse, Inc. have an ability to alter the content, and content will not be monitored by The Morning Pulse, Inc. in the future. The Morning Pulse, Inc. assumes no responsibility for the use of or inability to use such site and recommends you review the terms, conditions, and privacy policy applying to your use of the site. Expression of opinions contained on these hyperlinks may or may not be consistent with the opinions of The Morning Pulse, Inc.