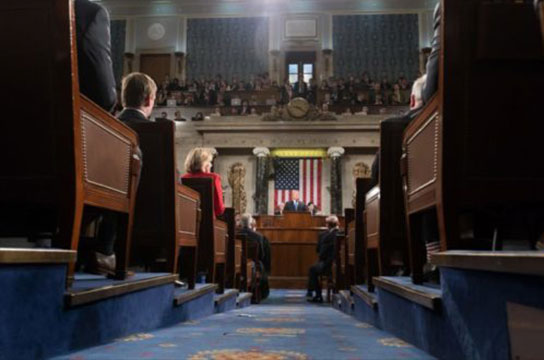 Editor's note: I have been producing The Morning Pulse 6 days a week for the last 6 years, and have enjoyed curating relevant retirement and financial industry content to provide to our audience. Over the last year or so, I have been asked to provide some additional opinion-based content.I have been reluctant to give any personal opinions thinking that I would leave it to the audience. Alas, I am taking a stab at a weekly column where I will offer up a point of view.

I've now had the opportunity to re-watch and re-read the President's State of the Union address from last Tuesday night.
As a professional focused on helping to strengthen and secure retirement for millions of Americans, I was heartened to hear and see the words "401k", "retirement", "pensions" and "college savings account" in the speech. And, I agree that the stock market returns over the last year – this week and last excluded-  have resulted in stellar 401(k) and pension investment returns . That's truly remarkable and we should be heralding the fact that our economy appears to be on a growth trajectory and that average Americans who have 401ks and IRAs and investments can benefit from this growth.
The format of the #SOTU doesn't lend itself well to exploring topics in great detail. However I took the liberty of exploring the topic further by adding a few additional paragraphs to the speech .
[Original State of the Union section]

"Small business confidence is at an all-time high.  The stock market has smashed one record after another, gaining $8 trillion in value.  That is great news for Americans' 401k, retirement, pension, and college savings accounts."

[Additional language about Retirement]

"But we need to do more to ensure that Americans are secure with their finances both today and in their futures. Therefore, I want to embark, with the help of Congress, on a National campaign across our Land to improve retirement and financial outcomes for all Americans. Here are some key principles of this initiative:

First, we need to discuss the definition of retirement. Is retirement a slowing down and easing into our golden years to play golf, travel the world and/or see and play with our grandchildren? Or, is it really being financially secure enough to pursue your life's passion by working with a not-for-profit on a cause that is important to you and your family, for example? This is an individual decision and one that should be carefully considered.

Second, while having a larger retirement balance today and when we retire is important, we need to realize that markets do go up and down on a day-to-day basis and a sense of perspective is important so that we don't suffer from the tendencies of irrational exuberance that plagued many of us in the early part of this century and resulted in over spending and over extending ourselves financially. Investment returns are important, but so are retirement plan design and individual financial education to make sure every American can save. We need to understand what this account balance may mean in terms of spending in retirement. Many of our fellow Americans don't yet have a full picture of their spending needs in retirement including food, shelter and healthcare. Budgeting and understanding that we are living longer will help us gain perspective as to what our account balances mean for us throughout our retirement years.

Third, many Americans remain uncovered by an employer-based retirement plan. I call on Congress, the Department of Labor and the retirement and financial services industry as well to create a strategy that will help those uncovered. Many states have taken steps to establish multiple employer plans or auto IRA programs. We should carefully study these initiatives, and working together, we can make sure employees of small businesses are covered and are provided similar opportunities.


Fourth, the pension system is important for our public sector and multiemployer workers. A promise made is a promise kept, and we need to look for ways to further strengthen our pension system and to help unburden employers and governmental entities from some of the challenges they are facing in managing these plans. Simply eliminating the pension may not be the best solution. We need to be careful about how this can impact service delivery to our citizens, particularly in the case of government workers. However, managing our finances prudently is essential as well, and we have to strike a balance between managing these plans and keeping our budgets balanced.

Fifth, is the importance of financial education. We need to ensure that Americans seeking financial advice and guidance receive appropriate and accurate information.  And that their best interests are well-served. The new Department of Labor Fiduciary Rule needs to be enforced and a uniform rule needs to be created by the Securities and Exchange Commission. Like any rule or regulation, this needs to be revisited on a periodic basis to ensure the results reflect the intent.


I want to create a Nation of consumers but, also, a Nation of savers. I look forward to working with Congress this year to carry this message to the American people."
Jeffrey H. Snyder is Founder and CEO of The Morning Pulse, Inc, a digital technology and media platform focused on aggregating, organizing and delivering retirement and financial services industry information daily and weekly.