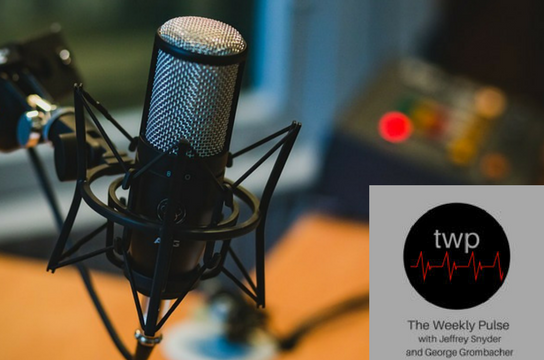 The Weekly Pulse – Sunday
Many of you who have been long-time subscribers to The Morning Pulse are very familiar with my professional and personal focus on education, transparency and outreach to ensure everyone has the information available for them to help plan and save for their financial futures. Financial independence should be a top goal for every American, and I want to do what I can to promote awareness.  Since its inception, The Morning Pulse has been a privately funded enterprise with no advertising and no corporate sponsorships. Those things aren't inherently bad necessarily, but it has always been my goal to remain as independent as possible and provide an unbiased point-of-view, all while being fiscally prudent to ensure that we remain on budget.
In addition to doing The Morning Pulse every day for the last seven years, I have been conducting on-camera interviews with the industry's top thought-leaders, legislators, regulators, employers, technology professionals, etc. to share some morsels of information that can be lessons for those who may be responsible for retirement programs large and small.  These interviews have been supplemented with weekly topical videos, articles and columns as well as appearances on National media platforms like FoxBusiness, CNBC, Bloomberg and TD Ameritrade. You can expect this to continue as they are excellent ways to engage an audience.
Last Sunday, keeping true to this long-term effort and striving for ways to further engage an audience, George Grombacher and I launched our new podcast The Weekly Pulse – Sunday. (For those who listened to the very first episode, thank you. And for those who have not yet found us, please feel free to check out the Show at your convenience.) Each week, we'll be talking to a wide array of experts in a multitude of fields to review and assess what happened in the markets and in the retirement and financial planning fields.
About 80% of The Morning Pulse's overall content has been focused on the institutional marketplace – employers, consultants/advisers, recordkeepers and asset managers.  For this Show, we are going to make certain that we continue to satisfy this audience but, also bring key ideas for the average individual investors. We want The Weekly Pulse – Sunday to be the one-stop for anyone looking to catch up on these topics – #PERSONALFINANCE, #401k, #PENSIONS, #HEALTHCARE, #TECH, #STOCKMARKET and #ALTERNATIVEINVESTMENTS – each week and to serve as a guide for the week upcoming. It's a daunting task, but we'll be creative in our panels, our guests and our line of questions, and we'll make it fun. And we expect you as the audience and listeners to interact with us through email (jeffrey.snyder@themorningpulse.com), Twitter (@THEMORNINGPULSE) and LinkedIn to make suggestions about concepts and guests.
This week's show will open with our great finance experts power panel. Expect this to have consistency with TD Ameritrade's anchor Oliver Renick and Bloomberg Equity Strategist Kevin Kelly, discussing key aspects of the week. Both Oliver and Kevin are veteran journalists and analysts. We're in the throes of Trump Tariff Talk and releases of economic numbers so we'll try to make sense of everything that's going on. We'll be joined this week by Invesco's Chief Global Market Strategist Kristina Hooper, a Nationally recognized expert, who will share her insights.
From there, we are plowing forward with a look on Capitol Hill. Kevin Walsh from Groom Law Group in Washington, DC will take us on a tour of latest goings on in terms of new legislation, regulation and some of the inner workings of Washington, DC. Kevin is going solo this week, but he will be joined from time-to-time by his Partner, David Levine. David is a mainstay in the retirement industry and his and Kevin's expertise will be most welcome. They may not appreciate this analogy completely, but I consider them the Batman and Robin of retirement – true superheroes.
Last but certainly not least, we'll be joined by Lisa Massena, the Executive Director of Oregon Saves. I have interviewed Lisa many times before and after the launch of the "first-in-the-Nation" auto-ira program. She brings a wonderful perspective to the discussion and will share her experiences with the launch of Oregon Saves and, also, what is happening around the United States in terms of providing coverage for Americans who may not have a 401k-type retirement plan.
So that's our upcoming episode which should prove riveting. We are interested in your feedback and suggestions, so please reach out.
Jeffrey H. Snyder is Founder and CEO of The Morning Pulse, Inc, a digital technology and media platform focused on aggregating, organizing and delivering retirement and financial services industry information daily and weekly.